Angie Burke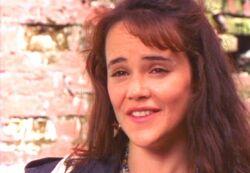 Statistics

Name
Angie Burke
Born
1973, Seacouver, Washington
Nationality
American
Status
Alive
Portrayed by 
Christianne Hirt
Angie Burke was a mortal woman and a friend to Richie Ryan, they had a previous relationship. Angie was from Seacouver, Washington and when Richie went to his old neighborhood in 1992 to find out who was responsible for killing his friend, Gary Correll, he ran across Angie who was being harrassed by some men, Richie tried to help her, but gothimself hurt.
After catching up, he found that Angie was helping out at a soup kitchen. The pair teamed up to find out more information on Gary's death. Tracing Gary's steps,  they found a bar, and ran into Chu Lin, who had been working for an Immortal, Kiem Sun.  It was later discovered that it was a potion made by Kiem Sun that caused Gary's death. A few weeks later, Richie saw Angie again when he was working for Harry Dawes, a used car salesman in town. Richie heped Angie buy a car, and later, when the car had problems, Richie found a way to get her car fixed.
Ad blocker interference detected!
Wikia is a free-to-use site that makes money from advertising. We have a modified experience for viewers using ad blockers

Wikia is not accessible if you've made further modifications. Remove the custom ad blocker rule(s) and the page will load as expected.