Angus MacLeod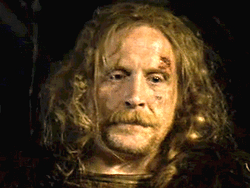 Statistics

Born
Scottish Highlands
Status
Deceased
Occupation
Clan Chief
Portrayed by 
James Cosmo
Connor MacLeod's cousin, and Duncan MacLeod's distant kinsman by adoption. When the MacLeods were leaving to battle the Frasers, Angus teased Connor about the fear of battle by claiming that he urinated in his kilt before his first battle. Attempting to ease any further worry, Connor's cousin, Dougal, said that Angus still continued to pee his kilt, regardless of circumstances. All three shared in a laugh.
When Connor was mortally wounded by the Kurgan, and later declared dead by the village priest, Angus tried to console Connor's wife Kate.
Angus later ordered their clan to banish Connor rather than burn him, after his immortality was revealed following his First Death in battle. He was the only one who seemed sympathetic to Connor's confusion as to why he was alive.  Conner said that he would be forever grateful to Angus for his mercy and compassion.
Angus passed away in 1539, around the time Connor re-married to Heather MacDonald.
Ad blocker interference detected!
Wikia is a free-to-use site that makes money from advertising. We have a modified experience for viewers using ad blockers

Wikia is not accessible if you've made further modifications. Remove the custom ad blocker rule(s) and the page will load as expected.