Anne Wheeler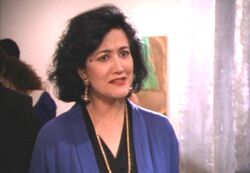 Statistics

Name
Anne Wheeler
Died
1992
Nationality
American
Status
Deceased
Occupation
Artist
Portrayed by 
Diana Barrington
Anne Wheeler was a mortal woman and artist living in Seacouver, Washington. She was in a crumbling relationship with Immortal, Andrew Ballin. Anne and Andrew had once had a serious relationship, and he revealed to her that he was an Immortal, when he left her, however, she followed him unwilling for things between them to end.
In 1992, Anne was at an art gallery and she met Tessa Noël, another artist. Anne left in order to speak to Andrew near the gallery on the bridge.  The discussion descended into an argument, and she threatened to reveal to the world his immortality, it was then that he strangled her and threw her body into the river.
Tessa Noël, looking out the window of the gallery office, witnessed the fight, but she did not see the actual murder because she turned her head for a few seconds, but knew something must have happened to Anne, and reported it. A few days later, Anne's body was discovered in the river.
Ad blocker interference detected!
Wikia is a free-to-use site that makes money from advertising. We have a modified experience for viewers using ad blockers

Wikia is not accessible if you've made further modifications. Remove the custom ad blocker rule(s) and the page will load as expected.