Anthony Graffini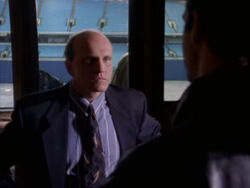 Statistics

Name
Anthony Graffini
Aliases
Tony
Nationality
American
Status
Alive
Occupation
Detective, Seacouver P.D.
Portrayed by 
Fulvio Cecere
Anthony Graffini was a detective for the Seacouver Police department. He was one of the detectives assigned to The Scalper series of murders in that city. As such, he responded to the scene when there was an attempt on Natalie Ward's life that bore all the hall marks of The Scalper's modus operandi, except that in this case, the victim had survived.
Ad blocker interference detected!
Wikia is a free-to-use site that makes money from advertising. We have a modified experience for viewers using ad blockers

Wikia is not accessible if you've made further modifications. Remove the custom ad blocker rule(s) and the page will load as expected.