Arianna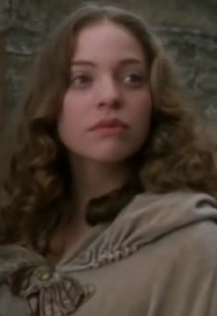 Statistics

Born
Italy
Status
Deceased
Occupation
Doge's daughter
Portrayed by 
Elodie Frenck
The doge of Verona's only daughter, she had been under guard half of her life from a father determined to protect her virtue. In 1637, she began receiving love notes, one of which was intercepted by her father. He charged his man Duncan MacLeod with the 'disposal' of the would be lover in a prefereably painful manner. Arianna swore that there was no man, but her father confronted her with the love poem, and she fled from his wrath.
MacLeod waited until Arianna slipped out of her father's palazzo and followed her to her rendezvous with the would be lover, a hired man for the doge's rivals, an Englishman called Hugh Fitzcairn, only to discover a fellow Immortal. Never keen on killing the man for writing love notes, the two reached an accord, and Fitzcairn swore not to go to the doge's palazzo again.
When MacLeod was later called before the doge, he was informed that Arianna has left the palazzo to go to the Englishman. MacLeod was ordered to retrieve her and kill the man who had taken her virtue.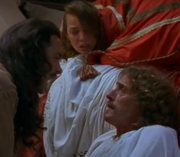 He pulled Fitzcairn unceremoniously out of bed and accused him of breaking his word. Fitz protested his innocence, saying that Arianna had come to him, and he could not possibly turn away a prince's daughter. MacLeod asked why he had to take her innocence, to which Fitz replied,
"There was none to take! I am old enough to know a virgin when I meet one...she even showed me a thing or two!"
MacLeod reacted with disbelief, saying she had spent her life under guard. Fitz agreed that she had, "By fair haired young men the prince thought he could trust!"
MacLeod made Arianna dress and rushed her out of Fitzcairn's rooms in order to take her home, but they were intercepted by her father's men who had come to execute Fitzcairn. MacLeod called the right of duel, and Arianna watched as the two men dueled. When Fitzcairn was run through, she protested wordlessly, but was then hustled away from the plaza.
Ad blocker interference detected!
Wikia is a free-to-use site that makes money from advertising. We have a modified experience for viewers using ad blockers

Wikia is not accessible if you've made further modifications. Remove the custom ad blocker rule(s) and the page will load as expected.