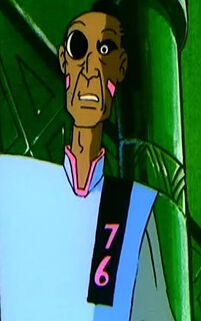 Asklepios is the leader of the Bureaucrats, #76, of Mogonda, a brilliant scientist. He has a rivalry with Arak; the two are constantly trying to show up one another to gain Kortan's favor.
Asklepios: Lord Kortan, Mogonda is, at this very moment, a cauldron of uncontrolled violence. It is unworthy of our great city.

Malone: [laughing] But my dear Asklepios, Mogonda built its empire on violence.
Ad blocker interference detected!
Wikia is a free-to-use site that makes money from advertising. We have a modified experience for viewers using ad blockers

Wikia is not accessible if you've made further modifications. Remove the custom ad blocker rule(s) and the page will load as expected.