Known as Lady Barbara, she was assigned to
Duncan MacLeod
from 1802 to 1805.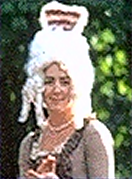 From 1806 to 1811 she was assigned to the immortal Francis Lee. When Lee, however, noticed her at social gatherings, he began to make amorous advances toward her. She was removed from the field to maintain both her anonymity and her virtue.
She retired in 1820.
Ad blocker interference detected!
Wikia is a free-to-use site that makes money from advertising. We have a modified experience for viewers using ad blockers

Wikia is not accessible if you've made further modifications. Remove the custom ad blocker rule(s) and the page will load as expected.