Baron Deshields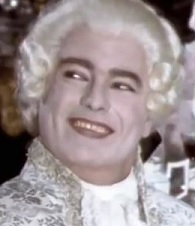 Statistics

Died
1783, assassinated by Christoph Kyler
Nationality
French
Status
Deceased
Occupation
Aristocrat
Portrayed by 
Michel Voletti

In 1783, Baron Deshields was a delegate for the French in peace talks with the English. The day prior to the summit, he hosted a party where Duncan MacLeod happened to be his bodyguard. Although MacLeod sensed another Immortal, and alerted the Baron that the entertainer could possibly dangerous, the Baron ignored him, "This is my chateau, and no one would dare attack me here." He then agreed to take part in an act with the entertainer, Kuyler.
Kuyler whispered instructions to the baron, making him laugh, then covered them both with a red cloth. When the cloth dropped, Kuyler had disappeared, and the baron fell to the floor, a dagger in his back.
Ad blocker interference detected!
Wikia is a free-to-use site that makes money from advertising. We have a modified experience for viewers using ad blockers

Wikia is not accessible if you've made further modifications. Remove the custom ad blocker rule(s) and the page will load as expected.