Baron Lemartin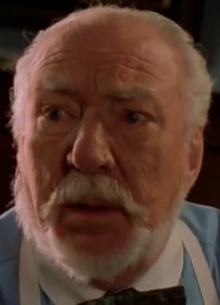 Statistics

Name
Jean-Luc LeMartin
Status
Alive
Occupation
Casino owner hotelier
Portrayed by 
Frank Middlemass
Jean-Luc LeMartin, an impoverished French baron, was once co-owner of the Casino Montecour in partnership with Carlo Capodimonte. After his only child, Pierre, and his wife, Marissa, died in a car accident in 1989, he was forced out of the casino by his partner, who claimed, "the old Baron went a little daffy. Most regrettable. I had to take over the casino."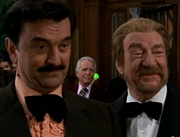 He lived a pottering existance at Lemartin chateau with his grand-daughter, Marina Lemartin who kidnapped Richie Ryan with the mistaken idea that he was a millionaire, and a ransom would save the chateau from it creditor - Capodimonte. She told Richie that she had to pay off the note because the only thing Capodimonte wanted more than the money was her. Richie and MacLeod then conspired to assist the LeMartins, and provided the 200,000 franc balance of the loan, Capodimonte said they missed the deadline by a day, and that the purchase price of the chateau was now 10 million francs.
Marina decided there was only one thing left to do. The Baron objected, "Let the nouveau riche lizard have the house..." Marina, however, packed a bag and arranged to leave with Carlo. MacLeod, too, told her they could find another way, but she insisted she had no choice, and got into Carlo's car. MacLeod recognized Capodimonte's watch as the same one that had been stolen from him in 1978, and realized who the thief had been. With that information, they freed the Lemartins from Capodimonte.
At the chateau, the baron and MacLeod, found a false wall in the wine cellar which was hiding a wealth of premium wines from before the second World War. The proceeds for which would pay for the renovations Marina hoped to complete on the chateau.
Hotel LeMartin opened in the spring of 1997.
Ad blocker interference detected!
Wikia is a free-to-use site that makes money from advertising. We have a modified experience for viewers using ad blockers

Wikia is not accessible if you've made further modifications. Remove the custom ad blocker rule(s) and the page will load as expected.