Basil Dornin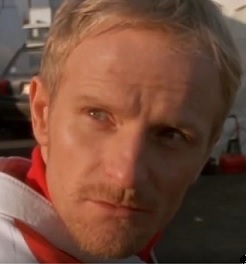 Statistics

Name
Basil Dornin
Died
1995, killed in a motorcycle race
Nationality
French
Status
Deceased
Occupation
Motorcycle racer
Portrayed by 
Jean-François Pages
Basil Dornin was a motorcycle racer on Marc Saracen's racing team. Basil was willing to win at any costs, up to and including running teammates off the track.
Basil learned everything he knew about racing from his teammate, Philippe, an older and more experienced racer. Eventually, however, Basil no longer needed him, and belittled him at every opportunity. By 1995, Saracen suggested to Philippe that he should retire, but Philippe refused. When he approached Basil to talk to Saracen for him,  Basil turned his back on him, coldly ignoring his former mentor.
A new racer, Richie Ryan, became the next member of Saracen's team, bumping Philippe off the team. When Basil met Richie, he was ingratiating to him at first.
Shortly, at a party, a drunken Philippe confronted Dornin, "You forced me off the track and then trashed me to Saracen," then got on a bike and raced down track. Dornin said, "He can't cut it anymore....I guess the man thinks he's got something to prove."   Phillipe lost control of the bike and was killed. Basil showed no sorrow over Philippe's death.
Richie was on track to becoming Saracen's best racer, until Basil set up Richie, provoking him and succeeded to the point where Saracen reprimanded him.  Richie, furious at Basil, and wanting to get even, tried to outrace him and was overly aggressive with Basil on the track. Both men wrecked in front of capacity crowds, dying on the track in front of countless witnesses. Basil stayed dead.
Jean-François Pages also played Luc Bergon in the Season two episode of Highlander: The Series entitled Unholy Alliance: Part Two.