Billy
Statistics

Status
Deceased
Occupation
Hunter
Billy was a former Watcher who worked with Pallin Wolf. Unlike Pallin he really believed the things that James Horton told them.
In 1993 he was involved in several beheadings performed by Wolf. He lured Duncan MacLeod away from Tessa so that Pallin could take her hostage, and draw MacLeod to them.  A few days later he tried to lure Duncan to Pallin's house where they planned to kill him. But he ran, trying to escape the angry immortal, and took a fatal fall from a fire escape.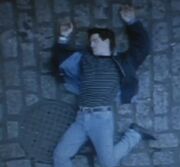 Ad blocker interference detected!
Wikia is a free-to-use site that makes money from advertising. We have a modified experience for viewers using ad blockers

Wikia is not accessible if you've made further modifications. Remove the custom ad blocker rule(s) and the page will load as expected.