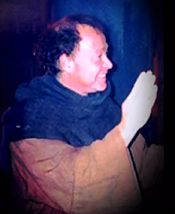 David of Alsace was a monk at the Abbey of St. Christopher from 1640 until 1682.
His mentor among the Watchers was Brother Peter von Kiel who called him an earnest and pious young man when he recruited him as a novitiate under Paul, the Abbot of the order.
He excelled at calligraphy, cartography and wine making. He spoke French, Latin, German, and English. He died in 1682.
Note: Brother David was portrayed by supervising producer, David Abromoitz.
Ad blocker interference detected!
Wikia is a free-to-use site that makes money from advertising. We have a modified experience for viewers using ad blockers

Wikia is not accessible if you've made further modifications. Remove the custom ad blocker rule(s) and the page will load as expected.