Bryan Slade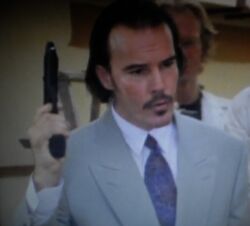 Statistics

Name
Bryan Slade
Died
1992, stabbed by Duncan MacLeod
Nationality
American
Status
Deceased
Occupation
Murderer
Portrayed by 
Andrew Divoff
A high profile mortal criminal, facing sentencing for seven counts of first degree murder at the opening of the episode.  The presiding judge pronounce seven consecutive life sentences in a closed court due to the danger posed by him. His sentencing was interrupted by Slade's attorney, who insisted he would appeal the judge's decision. The danger, however, was real, as Slade's crew orchestrated a break from the court house.  Poorly, as it turned out, as the escape turned into a hostage situation that involved Tess, Richie, and MacLeod.
Slade opted to execute a hostage as negotiations with the police faltered, and chose the one who appeared most dangerous to him - MacLeod.  After his recovery, MacLeod then hunted Slade's crew as they patrolled the floor, and finally confronted Slade in the judge's chambers, and proposed a duel, Slade accepted - and lost.
Miscellaneous Information
Edit
Andrew Divoff also portrayed the Immortal, Gavriel Larca, in the episode, Little Tin God.
Ad blocker interference detected!
Wikia is a free-to-use site that makes money from advertising. We have a modified experience for viewers using ad blockers

Wikia is not accessible if you've made further modifications. Remove the custom ad blocker rule(s) and the page will load as expected.