Carolyn Mortimer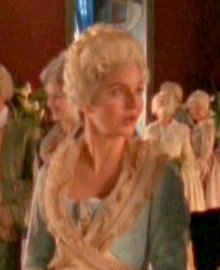 Statistics

Born
1665, in Paris, France
First Death
1691, accidentlly poisoned by bad cherries
Teachers
Sean Burns
Origin
French
Watchers
Candace Molyneaux
Status
Deceased, 1804, executed with husband, beheaded by Napoleon (Quickening lost)
Occupation
Aristocrat

Carolyn Mortimer is an Immortal from France. She is good friends with her teacher, Sean Burns, Robert de Valicourt, Angelina de Valicourt, Duncan MacLeod, and Hugh Fitzcairn. Carolyn was at the Chateau de Valicourt near Paris when Robert and Angelina renewed their wedding vows in 1796.
Carolyn and Angelina were in Paris during the French Revolution and managed to rescue some people from being executed. 
In 1804 Carolyn and her beloved husband, Jean-Paul were arrested by the Emperor.  Her Watcher recorded Carloyn's last moments on the scaffold before her execution, the magistrate allowed the couple a final kiss, before both fell to the guillotine.  She had forbidden her Immortal friends attendence, lest the release of her Quickening put them in danger, and so her Quickening was lost.
Ad blocker interference detected!
Wikia is a free-to-use site that makes money from advertising. We have a modified experience for viewers using ad blockers

Wikia is not accessible if you've made further modifications. Remove the custom ad blocker rule(s) and the page will load as expected.