Clinch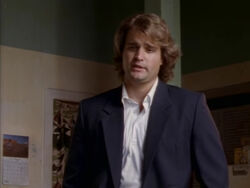 Statistics

Name
Clinch
Nationality
American
Status
Alive
Occupation
Muscle for Mrs. Gustavson
Portrayed by 
Peter DeLuise
Clinch was a mortal, a thug, and bouncer employed by Mrs. Gustavson in her illegal gambling club. He strong armed dealer,Joe Scanlon, who had lost far too much for Mrs Gustavson to forgive. He hounded Scanlon about repayment, until the desperate Scanlon decided to run a con on Richie Ryan to get get the money that would get Clinch off his back.
He thought himself quite the tough guy, and his brawling skills were sufficient to most tasks Mrs. Gustavson put to him, but when MacLeod beat Clinch, and put him on the ground, not once but twice, in front of her, she fired him.
Ad blocker interference detected!
Wikia is a free-to-use site that makes money from advertising. We have a modified experience for viewers using ad blockers

Wikia is not accessible if you've made further modifications. Remove the custom ad blocker rule(s) and the page will load as expected.