David Markum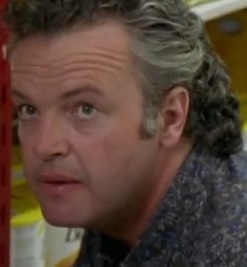 Statistics

Nationality
American
Status
Alive
Occupation
Grocer
Portrayed by 
Kevin McNulty
Markum, a mortal, and his wife, ran a small grocery store in downtown Seacouver. When the local crime boss demanded half his store in payment of a loan, and said he was Markum's partner, Markum told him to go to hell. As a result, a gunman, Paul Kinman, was dispatched to deal with him, who although partially thwarted by a passing Duncan MacLeod and Richie Ryan, managed to get off a a half a dozen shots, one of which killed Markum's wife, Alice.
Markum demanded that MacLeod come forward and testify against the killer, pulling a pistol to try and compel him and calling him a coward. Asking if the killer had bought him, and then bringing his motherless children to MacLeod's dojo in order to instill guilt. MacLeod promised Markum would get his justice, but Mac had already recognized the man as another immortal and old enemy, and had other ideas about justice than the court system without the subsequent publicity.
Markum, not understanding, went to the crime boss, Vince Petrovic, and agreed to give him half the business, "I go to sleep scared, and I wake up scared. What if he sends someone else after me? What if my little girls get in the way?"
Eventually, a falling out among thieves ended with the crime boss being murdered by Kinman, and Kinman falling to Duncan MacLeod. MacLeod quietly informed Markum of the deaths.
Kevin McNulty, who played David Markum also played a mortal named Harry Dawes in the Season One episode of Highlander: The Series entitled Revenge is Sweet
Ad blocker interference detected!
Wikia is a free-to-use site that makes money from advertising. We have a modified experience for viewers using ad blockers

Wikia is not accessible if you've made further modifications. Remove the custom ad blocker rule(s) and the page will load as expected.