Denise Grady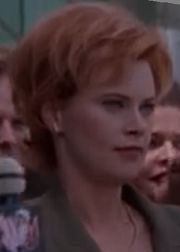 Statistics

Name
Denise Grady
Nationality
American
Status
Alive
Portrayed by 
Carolyn Dunn
Denise Grady was a mortal woman who happened to be the last in a blood line of a corrupt 19th century New York police officer, Russell Grady, who had murdered an Immortal's adopted son in 1897.
She was the daughter and grand-daughter of murder victims; a police Captain Russell Grady, and his son, newly elected Senator, Thomas Grady, who was shot by an assassin. Both were killed after receiving an anonymous letter "Your time of justice is at hand."
The assassin was Immortal, Morgan Kenworthy, who said that when Russell Grady killed his son, he killed everything he could have been, his heirs and his future, so he planned on killing the best of each generation of Gradys in retaliation, Denise was his next target.    
Kenworthy, however, was thwarted in his mission and Denise survived.