Dennis Keating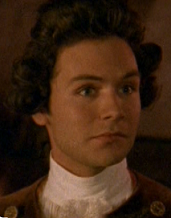 Statistics

Name
Dennis Keating
Born
January 14, 1684 in Bradford, England
Died
1711
Nationality
English
Status
Deceased, killed by Paul Kinman
Occupation
Nobleman
Portrayed by 
Tony Scanling
Lord Dennis Keating was born in Bradford, England. He was a favorite in Queen Anne's court. In 1711 he met and befriended Duncan MacLeod. Keating was very vocal in his support of the Scots and in his opposition to the war with France.
In 1712, the Earl of Welsley hired Immortal, Paul Kinman to deal with Keating, his political opponent. Keating was incited to challenge Kinman to a duel of honor. Kinman would kill the young man without mercy.
Ad blocker interference detected!
Wikia is a free-to-use site that makes money from advertising. We have a modified experience for viewers using ad blockers

Wikia is not accessible if you've made further modifications. Remove the custom ad blocker rule(s) and the page will load as expected.