Dennis Tynan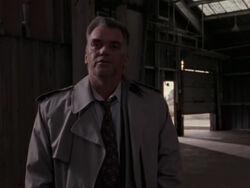 Statistics

Name
Dennis Tynan
Nationality
American
Status
Alive
Occupation
Detective for the Seacouver P.D.
Portrayed by 
Tim Henry
Dennis Tynan was a police detective for the Seacouver P.D., he was a corrupt cop who worked for Sam Grinkhov, a Russian mobster.
After an immortal,
Cory Raines,
robbed Grinkhov's check cashing service for 1.4 million dollars, they tracked the thief. After finding out who stole the money, Tynan and Grinkhov kidnapped
Amanda
in order to hold her for the return of the money.
Raines arrived for the payoff, claiming to have an explosive in his case. Tynan, having no wish to die for Grinkhov, ran off.
Note: The character was named in honor of Highlander: The Series Producer,David Tynan.
Ad blocker interference detected!
Wikia is a free-to-use site that makes money from advertising. We have a modified experience for viewers using ad blockers

Wikia is not accessible if you've made further modifications. Remove the custom ad blocker rule(s) and the page will load as expected.