Desirée Racine
Statistics

Name
Desirée Racine
Born
February 14, 1951 in Marseille, France
Nationality
French
Status
Alive
Portrayed by 
Astrid Veillon
Desirée Racine was a mortal lover of Duncan MacLeod's.
Background
Edit
Born on 14 February 1951, Desirée Racine worked as a lounge singer in the south of France when she became involved with
Immortal,
Duncan MacLeod, when Duncan encountered her while attending the 1978 Cannes Film Festival.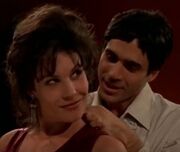 The two toured the Mediterranean region extensively afterwards, and when MacLeod beheaded the Immortal, Lothar on the beach near their hotel on 17 May, the pair evaded police pursuit on a motorcycle while they fled the city.
She and Duncan arrived at the Casino Montecour in Monaco, where Desirée won over a million francs gambling at the casino owned by Baron Lemartin and Carlo Capodimonte. Unfortunately, her money was stolen at gunpoint that night, by a masked gunman in their hotel suite. Desirée then left MacLeod forever, unable to forgive him for not saving her money by fighting off the robber.
Later, in 1982, Racine married Jacque Founry, member of the French Assembly. The marriage only lasted for a few years, and in 1989, she married Pierre Dorot, a prominent French film director.
Ad blocker interference detected!
Wikia is a free-to-use site that makes money from advertising. We have a modified experience for viewers using ad blockers

Wikia is not accessible if you've made further modifications. Remove the custom ad blocker rule(s) and the page will load as expected.