Donna Ondrejka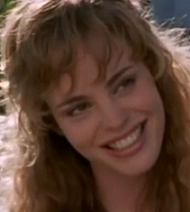 Statistics

Name
Donna Ondrejka
Born
August 13, 1975 in Seacouver, WA
Nationality
American
Status
Alive
Portrayed by 
Chandra West
A former lover of Richie Ryan, Donna attempted to bring Richie back into her life more permanently when she tried to convince him that he was the father of her infant son, Jeremy.  While Richie was pleased with the idea, he realized the child could not possibly be his.  Eventually, he decided to tell Donna that not only could the baby not be his, but the truth about what he was, until he realized that he could not protect them.
Donna suggested that they all move into a little house on 4th Street together, but Richie reluctantly told her they could not be together. "If you didn't want us, why didn't you just tell me?"  He said he could not explain why, and she had no way of understanding, "You're sorry? Just like that?" She slapped him and told him to go to hell before taking her son and storming off. 
Ad blocker interference detected!
Wikia is a free-to-use site that makes money from advertising. We have a modified experience for viewers using ad blockers

Wikia is not accessible if you've made further modifications. Remove the custom ad blocker rule(s) and the page will load as expected.