Elena Moreno
Statistics

Name
Elana Moreno
Born
September 3, 1952 in Buenos Aires, Argentina
Died
November 14, 1996
Nationality
Argentine
Status
Deceased
Portrayed by 
Diane Bellego
A mortal child who, in 1958 at the age of about 6, was adopted by the immortal, Katya.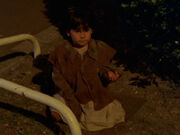 She was raised as her daughter, and when she was old enough, she was told of her mother's immortality. As time passed, they presented themselves as sisters, rather than parent and sibling. In 1982, Elena married
Armando Baptista
, a prominent newspaper publisher. They had a daughter they named
Mia
.
In 1996, Katya arrived at her daughter's house to find that Baptista had shot her. Elena died en route to the hospital with Katya at her side. The police had taken Baptista into custody and he stood trial for murder. He testified that after ten years of marriage, Elena had betrayed him with his right hand man, Ramon Castillo. He was informed of the affair, and was shown photographs, when he returned home in an emotional turmoil, he happened to discover Ramon and Elena together, he picked up a pistol, and shot them both before collapsing in tears. He called the ambulance himself. 
He was acquitted of her murder.
Diane Bellego, who portrayed Elena Moreno also portrayed Angela Constantine in the Season Two episode of Highlander: The Series entitled Pharaoh's Daughter
Ad blocker interference detected!
Wikia is a free-to-use site that makes money from advertising. We have a modified experience for viewers using ad blockers

Wikia is not accessible if you've made further modifications. Remove the custom ad blocker rule(s) and the page will load as expected.