A Watcher based on the east coast of the United States.  He was educated at the College of New Jersey, and recruited by Elmer Howe, who served as his mentor.  He was a skilled orator and essayist, and was also an accomplished administrator and organizer. After thirty years in the field, the Reverend Ernest Sturdivant was promoted to area supervisor, an area which encompassed the states of Pennsylvania, Delaware, and New Jersey, serving from his headquarters in Philadelphia, from 1842 - 1850, when he retired.   In the course of his field work he was assigned to the following Immortals: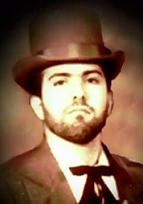 Peter Caradoc 1811 - 1818
Duncan MacLeod 1818 - 1834
Martin Bennett  1829 - 1834
Angelica Monroe 1835 - 1841
Ad blocker interference detected!
Wikia is a free-to-use site that makes money from advertising. We have a modified experience for viewers using ad blockers

Wikia is not accessible if you've made further modifications. Remove the custom ad blocker rule(s) and the page will load as expected.