Glenfinnan
a village in the Lochaber area of the Highlands of Scotland.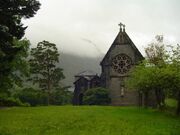 Both Connor and Duncan MacLeod were born in Glenfinnan in 1518 and 1592, respectively.
In 1745 the Jacobite Rising began in Glenfinnan when Prince Charles Edward Stuart raised his standard on the shores of Loch Shiel. Seventy years later the 60 foot Glenfinnan Monument at the head of the loch was erected to commemorate the historic event, the tower is surmounted by a statue of an anonymous Highlander. Ian Macleod and his wife, Mary, are buried in the cemetery in Glenfinnan, and there is an ancient church and a tavern/Inn there.
People Born in Glenfinnan
Edit
Ad blocker interference detected!
Wikia is a free-to-use site that makes money from advertising. We have a modified experience for viewers using ad blockers

Wikia is not accessible if you've made further modifications. Remove the custom ad blocker rule(s) and the page will load as expected.