Harry Dawes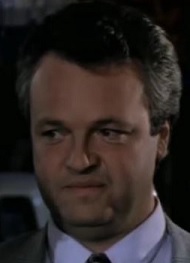 Statistics

Name
Harry Dawes
Nationality
American
Status
Alive
Occupation
Used car dealership owner in Seacouver, Washington.
Portrayed by 
Kevin McNulty
A used car salesman, he ran a small lot in Richie Ryan's old neighborhood. Following Richie's time at MacLeod and Noël Antiques, it was Harry who gave Richie his first legitimate job as a salesman.  When Richie sold a lemon to his friend Angie Burke, however, Dawes told him the car had been sold 'as is' and the fact that it broke down was just too bad.  Richie quit, not liking Harry's practices.
Kevin McNulty, who played Harry Dawes, also played a mortal shop keeper, David Markum, in the Season Four episode of Highlander: The Series entitled Reluctant Heroes.
Ad blocker interference detected!
Wikia is a free-to-use site that makes money from advertising. We have a modified experience for viewers using ad blockers

Wikia is not accessible if you've made further modifications. Remove the custom ad blocker rule(s) and the page will load as expected.