Herbie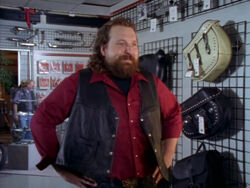 Statistics

Name
Herbie
Nationality
American
Status
Alive
Occupation
Motorcycle dealer
Portrayed by 
Raimund Stamm
Herbie is a mortal acquaintance of Richie Ryan's who works at a Harley-Davidson dealership. He knew Richie before he straitened up, back when he had been a petty thief. He had then promised to get him a manifold for a '46 Harley, but since having met MacLeod, Richie told him he had gotten out of the parts business.
Richie and MacLeod visited him at one time while on the trail of the killer known as "The Scalper" who had been seen riding a classic Indian motorcycle. MacLeod gave Herbie a $100 for any information he might have on the man who owned the Indian.
Eventually, Michael Tanovsky, showed up at the shop, and Herbie called Richie to let him know the Indian owner was there. Richie told him to do his best to keep the suspect there.
Ad blocker interference detected!
Wikia is a free-to-use site that makes money from advertising. We have a modified experience for viewers using ad blockers

Wikia is not accessible if you've made further modifications. Remove the custom ad blocker rule(s) and the page will load as expected.