Released in 2008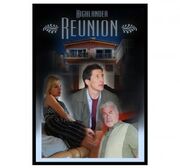 Reunion is a short film featuring
Joe Dawson
,
Amanda
, and
Methos
set ten years after the close of
Not To Be
.
It has been ten years since we left Methos, Amanda, and Joe and some things have changed, while others remain the same. Love has blossomed, Immortality is still a double edged sword, and lingering feelings rise to the surface...now a very important event has brought the three old friends together in this unforgettable Highlander Reunion, but will The Game threaten to tear them apart? More Info
Ad blocker interference detected!
Wikia is a free-to-use site that makes money from advertising. We have a modified experience for viewers using ad blockers

Wikia is not accessible if you've made further modifications. Remove the custom ad blocker rule(s) and the page will load as expected.