Jack Spice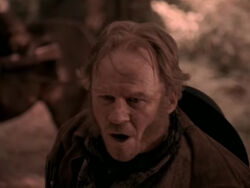 Statistics

Name
Jack Spice
Died
1868, shot by Chaske
Nationality
American
Status
Deceased
Occupation
Trapper, slave owner
Portrayed by 
Dwight McFee
Jack Spice was seen only in a flashback sequence, he was depicted as a man who worked as a trapper  in the Dakota Territory in 1868. He had at some point bought a slave, a Sioux youth called Chaske.He was an impatient and violent master, often beating or whipping the boy for errors.
Duncan MacLeod witnessed the abuse one day and rode to Chaske's defense.  Duncan took Chaske to a nearby town, McKewansville, and the doctor,agreed to tend to his wounds.
Spice followed them into town and spotted Chaske try to steal his horse. He tried to grab him, but Chaske disarmed him and shot him with his own gun.
Dwight McFee, who played Jack Spice, also played Raymond Holstrom in the Season Two episode Studies in Light.
Ad blocker interference detected!
Wikia is a free-to-use site that makes money from advertising. We have a modified experience for viewers using ad blockers

Wikia is not accessible if you've made further modifications. Remove the custom ad blocker rule(s) and the page will load as expected.