Jeff Case
Statistics

Name
Jeffrey Case
Immortals Observed
Andre Korda
Nationality
American
Status
Deceased, 1998, killed by Crysta
Jeff Case was the Watcher assigned to Andre Korda.
He was spotted and killed by Korda's thug, Crysta. Nick Wolfe discovered Case's body, and pursued his killer, only to loose her. When he returned to the body, two men were loading it into a van. A third pulled a gun on Wolfe and told him to lower his. When he said, "We didn't do this, Nick." Wolfe replied that he didn't know him. To which Joe Dawson responded, "You're not supposed to."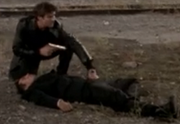 Both men returned to Amanda's were she let slip the word Watcher in front of Wolfe, much to Joe's disgust. Joe told them that the dead man had been Jeff Case, his wife's name was Marilyn, and that Jeff's father and he had been friends for over twenty years - and that was all he could say.
Ad blocker interference detected!
Wikia is a free-to-use site that makes money from advertising. We have a modified experience for viewers using ad blockers

Wikia is not accessible if you've made further modifications. Remove the custom ad blocker rule(s) and the page will load as expected.