John Stenn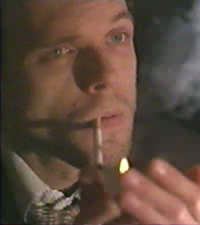 Statistics

Name
John Stenn
Nationality
American
Status
Alive
Occupation
NYPD detective
Portrayed by 
Martin Neufeld
Lt. John Stenn is a NYPD detective investigating the head hunter killings. Stenn is a heavy smoker, habitual coffee drinker, mint-popping workaholic.
He remembers Russell Nash and the incidents of the first film. He is unaware of the Immortals and the Game. He is suspicious of Nash, however, because of the relationship that Nash had with Brenda Wyatt.
He has a conversation with Alex Johnson and told her to be careful of Nash, that he was dangerous. Stenn does take MacLeod in for interrogation and does eventually come to understand MacLeod's need to save his son John MacLeod and though he does not quite grasp or believe the reality of MacLeod's existence, lets him go find his son.
Ad blocker interference detected!
Wikia is a free-to-use site that makes money from advertising. We have a modified experience for viewers using ad blockers

Wikia is not accessible if you've made further modifications. Remove the custom ad blocker rule(s) and the page will load as expected.