Johnny Kelly
Talk

0
745pages on
this wiki
Johnny Kelly
Statistics

Name
Johnny Kelly
Aliases
Johnny K
Born
1910, in New York City
First Death
1929, shot by a bootlegger
Teachers
Duncan MacLeod
Origin
American
Watchers
Joe Dawson
Status
Deceased, 1996, beheaded by Duncan MacLeod
Occupation
Assassin
Portrayed by 
Ian Tracey
Johnny Kelly
was born in New York City in 1910, a kid in the neighborhood during prohibition who had dreams of being something big. He wanted to be as great as Al Capone and some of the other gangsters. While as a pre-Immortal, he worked for a bootlegger named Big
Gino DiGennaro
, running numbers and booze. While Gino and a few members of his crew and Duncan MacLeod were playing poker, it is when his life was about to change. Johnny goes outside to get more whiskey for Gino after the poker game and sees a hit go down. The cops interrogate Johnny and tells the cops nothing. MacLeod tries to tell Johnny that he is something special. Johnny tells Duncan he wants to be a big man like Capone and others. Johnny tells Duncan to tell Gino that he quits.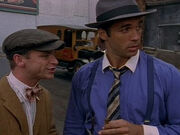 Later on that night, he goes to a rival bootlegger named Luca to tell him about the hit and Luca invites Johnny in and Luca thinking that Johnny is going to rat him out Luca shoots him. After Luca kills Johnny, Luca dumps Johnny's body in front of Gino's place and Duncan goes outside and sees that Johnny has become Immortal. Duncan tells Johnny what he is and what the rules are, but Johnny does not care about the rules, Johnny wants to get revenge against Luca and walks off. Johnny does kill Luca and 3 of his men later on and gets $3,000 for popping him.
Over the years, Johnny learned how to use a sword by watching pirate movies. Johnny decides to use his Immortality by becoming an assassin, getting $200,000 a hit, he is a master of disguise. In 1996, Johnny goes to the corporate headquarters of a business man named Delio, disguised, wearing artificial legs to make him look taller cause of Johnny's height. Johnny kills Delio and escapes, takes off his disguise and puts on street clothes and leaves the building riding a skateboard.
Johnny is hiding out at a warehouse and it is where he sees Duncan MacLeod again and after Duncan discovers what Johnny is doing, Johnny shoots Duncan in the back and is about to take Duncan's head till 2 guys come out of an elevator and Johnny runs off. Later, Johnny tries to blow up Duncan MacLeod in the trailer where Johnny is staying, but Duncan escapes. Johnny later on calls Duncan and Duncan tells Johnny that he will pay Johnny to target someone else by offering him $100,000 and Johnny considers it and they meet up at a church. At the Church, Duncan taunts Johnny and does not pay him. Johnny is not too happy as he tells Duncan that he has a head count of 249 people. Johnny does not know it is a set-up, arranged by MacLeod and Joe Dawson where as Johnny steps outside the Church, Joe poses as a photographer while a wedding has just ended and takes pictures of Johnny.
The next day, Johnny is in disguise as a hot dog vendor about to do a hit, he sees pictures of him plastered up all over town, which has ended his career as an assassin. Johnny calls Duncan and tells him he is a dead man. Johnny tries to shoot Duncan with his rifle and hits a dummy tied to a train set and he senses the presence of another Immortal, it is Duncan MacLeod, he and MacLeod face off and Duncan beheads Johnny and receives his Quickening.