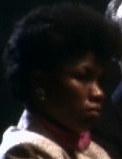 A native of Capetown, South Africa, she was graduated from the Watcher Academy, class of 1978, ranked first in a field of 90. Her skills included Management and organization, diplomacy, trade negotiation, and the languages of Lingla, French, English, Swahili, and basic Arabic. Her career consisted of the following assignments:
1979 - 1983 Sekou Nkruma
1983 - 1985 Sunda Kastagir
1985 - 1993 Kwame Nyerere
1985 - 1993 Area Supervisor, Kinshasa
1993 - 1996 Coordinator, Africa
In 1996, she along with several other regional coordinators were ordered to appear in Paris for the trial for treason of Joseph Dawson, Area Supervisor, Seacouver, Washington. Joma served on the jury that found Dawson guilty with the accompanying sentence of death. The jury members, who would also serve as witnesses at the execution, were gunned down en masse by the Immortal Jacob Galati. Ironically, only Dawson survived the massacre.
Ad blocker interference detected!
Wikia is a free-to-use site that makes money from advertising. We have a modified experience for viewers using ad blockers

Wikia is not accessible if you've made further modifications. Remove the custom ad blocker rule(s) and the page will load as expected.