Joshua Cole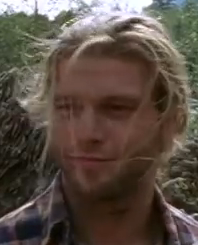 Statistics

Name
Joshua Cole
Status
Alive
Occupation
Mountain man
Portrayed by 
Byron Lucas
The mortal son of a woman whom
Caleb Cole
stole when the boy was eight. Cole said that he had been with Joshua's mother from the time that the boy was three. That they had been a real family. They settled in a remote area, but when she died of pneumonia, Caleb blamed the doctors for her death, and took Joshua with him to the mountains in the Pacific northwest where they lived a primitive and paranoid existence. They lived off the land, later accepting a third member of their small society,
Eddie Doyle
,
"...a boon companion along for the pure hell of it."
In 1992, a pair of deputies sent to serve a warrant for poaching deer, never returned from their camp. The three were then posted as being wanted for murder from that point. A year later,
Tessa
was in the mountains, and was taken by them. Joshua, blamed her for the fact that men were following them again.
When Doyle attacked Tessa, Joshua came to her rescue, threatening Doyle with a knife until he retreated. Tessa worked on Joshua, saying she knew that he didn't want her there, that he should let her go. She told him that he was treated more like a slave than a son.
Joshua was caught alone by
MacLeod
, who was on their trail, and taken; a cross of his weapons left for Cole to find. Cole assumed Joshua was dead and challenged Mac, firing his weapon into the woods, and alerting the posse of deputies also on their trail. The posse then found Joshua, tied to a tree and hidden beneath a deadfall, and took him into custody.