Justin Russell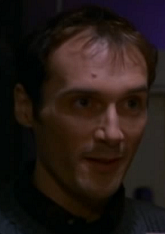 Statistics

Immortals Observed
Jackson Trent
Nationality
American
Occupation
Watcher
Portrayed by 
Oliver Becker
A Watcher originally from Albuquerque, New Mexico, he was recruited out of the University of Marymount by Philip Markowitz. He, along with his wife, Maureen, were the assigned Watchers for the Immortal, Jackson Trent from 1992.
In 1995, they took part in an poker game at Joe Dawson's bar, where they had an conversation about Trent with the other watchers,  they told them that Trent hadn't used his sword for years, and that Maureen suspected he was writing romance novels on the sly.
Fellow Watcher, Rita Luce used this information, illegally feeding it to her assigned Immortal, Michael Christian, who took advantage of the Trent's rusty fighting skills, and beheaded him.
Justin's cover was that of a  Banker in Portland, Oregon.
Assignments:
1995- : Andrew Gallagher
1992-1995: Jackson Trent
1988-1992: Alex Harrison
1987-1988: Historian
Skill set includes Accountant; Mountain climbing and  Languages: English, Spanish
Ad blocker interference detected!
Wikia is a free-to-use site that makes money from advertising. We have a modified experience for viewers using ad blockers

Wikia is not accessible if you've made further modifications. Remove the custom ad blocker rule(s) and the page will load as expected.