Kameke Minota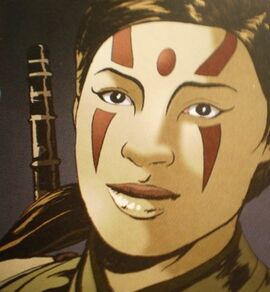 | | |
| --- | --- |
| Appeared in | Highlander volume 2: Dark Quickening |
Statistics

Name
Kameke Minota
Born
Early 1600's
First Death
Early 1600's
Teachers
Kintaro
Origin
Japanese
Status
Deceased, Beheaded by Gordon Byrne 1987
Occupation
Ninja
Kameke was an Immortal who appeared in Highlander volume 2: The Dark Quickening: issues 6-9
In the 1600s she was taught the way of the Ninja by master Kintaro, until he was beheaded by a fellow student, the Immortal Gordon Byrne. Kameke swore revenge.
In the year 1987 She managed to locate Byrne and his mortal pupil Sakura. Byrne had taken Connor MacLeod as his prisoner, in order to take advantage of his dark Quickening. Kameke approached Duncan MacLeod and together they free Connor. Byrne and Sakura escaped. They brought Connor to Hugh Fitzcairn's boat in order to release him from the Dark Quickening. Thereafter they go to Connor's place. Byrne tried to take Brenda and Rachel hostage, but Duncan and Kameke were just in time to prevent that. Duncan fought Sakura and killed her, then he escaped with Brenda and Rachel. Kameke and Byrne had their final confrontation. After a hard fight Kameke lost to Byrne and he took her head and Quickening. Her decapitated corpse is later found by the police.
Ad blocker interference detected!
Wikia is a free-to-use site that makes money from advertising. We have a modified experience for viewers using ad blockers

Wikia is not accessible if you've made further modifications. Remove the custom ad blocker rule(s) and the page will load as expected.