Katya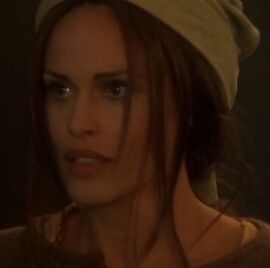 Statistics

Aliases
Katya of Greenhill, Katia Wallenstein, Kat Martin, Katya Zúñiga
Born
1334, Greenhill, England
First Death
1362, stoned as a witch for seducing a nobleman's son
Teachers
Benedict of Markenfield Hall
Origin
English
Watchers
Theresa Cua
Status
Active
Occupation
Designer
Portrayed by 
Justina Vail
In 1362, Katya worked in an English pub, when she and the nobleman, William of Godfrey, became lovers. William's father, Frederick of Godfrey, demanded his son leave her. When he refused, the father accused Katya of witchcraft, and she was later stoned to death by the villagers. She revived, in a mass grave, as an immortal. On 18 April 1385, the Watchers decided to send an operative to England, having heard rumors about the 'Witch of Green Hill,' who had cursed her village, and could not be killed. Over the centuries, Katya learned to use both sword and crossbow.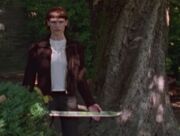 In 1958, she was living in Argentina where she adopted a little girl named Elena Moreno. In 1964, Elena was at St. Mary's Academy in Buenos Aires, and when Elena turned 18, Katya gave her a car as a birthday present. To hide Katya's immortality, Katya and Elena moved to a new location and began telling people they were sisters instead of mother and daughter. 
In 1982, Elena married Armando Baptista. They had a daughter they named Mia. In 1996, the Watcher, Consuelo Figueroa, babysat Mia from time to time, and also reported on Katya.
Elena was caught by her husband with her lover Ramon Castillo. Baptista then shot both in a rage, Elena died in Katya's arms. In 1997, an Argentine court acquitted Baptista of murder, calling it a crime of passion. But Katya wanted revenge, so she followed her son-in-law to Paris, and tried to assassinate him with a crossbow. Duncan MacLeod foiled her attempt, and in her anger she challenged him to a duel. Duncan charmed her, and they ended up talking, and then going to bed. He tried to convince her to give up her quest for vengeance.
But Katya still pursued Armando, and not until she had her sword to his throat did she realize that she could not make her granddaughter an orphan. Katya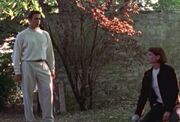 said farewell to Duncan and began a new life in Tokyo as a designer.
Her current weapon of choice is an Italian design falchion with a straight single edged blade.