Kenneth Dixon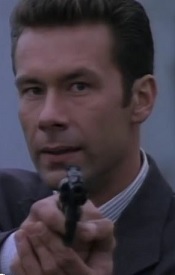 Statistics

Name
Kenneth Dixon
Aliases
Kenny
Nationality
American
Status
Alive
Occupation
Seacouver Police officer
Portrayed by 
Roman Podhora
A mortal and a police officer, in 1993, he had no knowledge of Immortals or their Game. He was partners with Eugene Carter, who was, unbeknownst to him, a former Watcher and current Hunter. Carter had targeted Immortal, Carl Robinson, whom he accused of being wanted for murder in Arizona. He ran over Robinson with his car in an attempt to corner and kill him.
Duncan MacLeod took it upon himself to let Kenny know that his partner was a murderer, and managed to get Kenny to agree to an ambush when he questioned his honesty and dedication to his badge. When Carter later hunted Carl down, armed with an axe and a shotgun. Kenny, showed himself, and ordered Carter to drop his weapons. Carter refused and tried to bring his shotgun to firing position, but was shot by a reluctant but determined Ken.
Ad blocker interference detected!
Wikia is a free-to-use site that makes money from advertising. We have a modified experience for viewers using ad blockers

Wikia is not accessible if you've made further modifications. Remove the custom ad blocker rule(s) and the page will load as expected.