Kit O'Brady
Statistics

Name
Kit O'Brady
Born
1796, in Kilkenny, Ireland
First Death
1832, lynched for fixing a race.
Teachers
Rory Colhoun
Origin
Irish
Watchers
William Charles Snow
Marshall Bowen
Status
Alive
Occupation
Gambler
Portrayed by 
Nicholas Campbell
Kit O'Brady was born in 1796, in Kilkenny, Ireland. He grew up to be a gambler and successful businessman. As a consequence of trying to fix a race in 1832, O'Brady was lynched by an angry mob, thereby triggering his immortality. He met Rory Colhoun, who became his teacher. Unique among Immortals, O'Brady has the inconvenient habit of sneezing when he senses the presence of another Immortal.
In 1888 San Francisco, O'Brady was running a saloon and casino which he had named the "Double Eagle." When Duncan MacLeod, a friend of his visited, they sensed the presence of another Immortal, and Amanda made her entrance.
MacLeod introduced Amanda to O'Brady; they spoke and played a game of poker which O'Brady lost, the pot included both the Double Eagle, and his lucky gold coin. O'Brady was broke and resented Amanda, feeling she cheated at the game. Returning to the saloon later, he was further incensed to discover Amanda had changed the name of the saloon to the "Queen of Spades".
Kit hoped his luck was changing for the better when he won a ticket on a steamer boat heading to Alaska. Amanda's newly acquired saloon, caught fire and burned to the ground soon after. Amanda blamed Kit for the fire, not knowing Kit was on a steamer at sea at the time.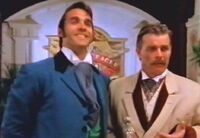 In 1995, O'Brady was in Macao playing mahjong. He won $65,000, unfortunately he owed $200,000 to a loan shark. He and the loan shark met at the end of the game, and the loan shark shot O'Brady. O'Brady nonetheless escaped with the money and ran, ending up in Seacouver.  Reunited with  Duncan MacLeod, the two made plans to go out to eat.
At the dojo, Mac introduced Kit to Richie Ryan, leaving them together while he went to the loft to smooth the way with Amanda, fearing if Amanda and Kit saw each other, they would fight.
O'Brady eventually found his way to the racetrack,  and managed to get Duncan to buy a share of a racehorse he found; the horse's name was Double Eagle. Duncan decided to give his share to Amanda, but when his two friends met, they argued over the Double Eagle saloon and the argument deteriorated until swords were drawn. Duncan, however,  arrived in time to show Amanda an old newspaper article about the boat Kit was on at the time of the saloon fire in 1888. Faced with the facts, Kit and Amanda made up.
Kit played drew cards with Amanda and "won" her share of the horse.
Ad blocker interference detected!
Wikia is a free-to-use site that makes money from advertising. We have a modified experience for viewers using ad blockers

Wikia is not accessible if you've made further modifications. Remove the custom ad blocker rule(s) and the page will load as expected.