Lina Cimoli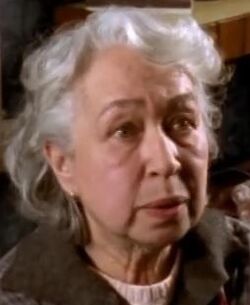 Statistics

Name
Lina Cimoli
Status
Alive
Portrayed by 
Louise Vincent
She moved from Britain to France with her son Danny where she worked at a family bar, and he continued to try and make it as a magician despite her calling his obsession childish, that men didn't play with toys. She continued to try and get him to take a 'real' job.
After he blew off yet another job interview, she became frustrated with him, and threw his props out the window into the street. When he went out to get his things, a truck hit him and killed him. A few minutes later, Danny revived as an Immortal. She called it a miracle and wept as she held him.
When he later used his immortality as part of his act and became a circus featured player, his mother accepted the change, delighted both with her son's continued presence and the beginning of his success. Danny told potential teacher, Duncan MacLeod, that Lina had told people his father had died so many times that "even she believed it" but that he had not died, he "just took a walk one night" and that he could never just abandon her, and disappear as his father had. MacLeod agreed it was hard, but that alternate may be her attending his funeral.
When he got a booking in Las Vegas, Lina held a small surprise party for him to celebrate, derailing his half-hearted attempts to leave. When he took the booking in Vegas, his last act before disappearing, was to phone his mother to tell her of the rave reviews for his show and to tell her he loved her.
Ad blocker interference detected!
Wikia is a free-to-use site that makes money from advertising. We have a modified experience for viewers using ad blockers

Wikia is not accessible if you've made further modifications. Remove the custom ad blocker rule(s) and the page will load as expected.