Lizzie Tynan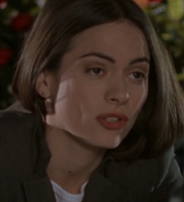 Statistics

Name
Elizabeth Tynan
Aliases
Lizzie Tynan
Nationality
English
Status
Alive
Occupation
Reporter
Portrayed by 
Josephine Butler
Lizzie Tynan was a mortal reporter out of London who was visiting Paris in hopes that Father
Liam Riley
would speak to her about exorcism for a story she wanted to do, to no avail. Lizzie had faked sources for a story previously and was rather a pariah in the industry at the time.
She stumbled across a duel between Amanda and the immortal, Sean, her presence was enough of a distraction so that Amanda was killed. While Nick and Liam tried to hustle her away from the area, Amanda awoke with Lizzie as witness, who then tried to make a story of the incident, despite the fact that neither of the other witnesses were willing to help, insisting that what she had seen was an interactive live action play.
She later photographed Amanda and Liam sparring only to have Amanda destroy her camera and threaten her in front of Liam whom she was trying to goad. She eventually realized she could not tell her story as news, but said it would make a great novel.
Trivia: The character was named for Highlander writer/producer David Tynan              
Ad blocker interference detected!
Wikia is a free-to-use site that makes money from advertising. We have a modified experience for viewers using ad blockers

Wikia is not accessible if you've made further modifications. Remove the custom ad blocker rule(s) and the page will load as expected.