MAX is a super-prison run by the Shield Corporation, seen in the film Highlander II: The Quickening.
Following the activation and deployment of the planet-encompassing electromagnetic energy barrier known as the Shield in 1999, the Shield Corporation positioned itself as the sole protector of the world, operating the Shield against the effects of solar radiation caused by the depletion of the ozone layer.
One result of gaining the monopoly over this area of commerce, however,  was the consequent implementation of a privatized paramilitary force and incarceration system, likewise solely under the jurisdiction of the Shield Corporation, unanswerable to sovereign governments anywhere.
Anyone perceived as acting against the interests of the company, whether from within or without, were subject to immediate arrest and internment, without due process or trial. The MAX super-prison was the final outcome of this.
The Prison
Edit
Located in the western deserts of the United States, not far from Las Vegas, the MAX prison was the largest penitentiary on Earth, with construction already having begun in the year 1990 (according to the Highlander II screenplay), and was completed in 1994.
A massive complex housed scores of "criminals" and dissidents viewed as dangerous to the corporation. The MAX facility was staffed by armed paramilitary guards, equipped with automatic weapons, as well as by a team of medical personnel trained to handle most situations that might arise there. Inmate life-expectancy, however, appeared to be very short, once a prisoner arrived.
Attempted Breakout
Edit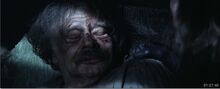 In the year A.D. 2024, the CEO of the Shield Corporation, Dr. Allan Neyman, was himself arrested and charged with treason by David Blake, chairman of the company board, and was sentenced to lifetime imprisonment within the MAX facility after attempting to prove that the self-repair of the ozone layer had occurred.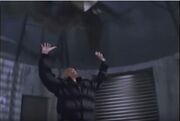 Seeking the remainder of the coordinates, Immortals Connor MacLeod and Juan Sanchez Villa-Lobos Ramirez, and environmental terrorist Louise Marcus infiltrated the MAX super-prison. The two Immortals withstanding massive gunfire in order to feign death and gain entry afterward.
Neyman was eventually located, but died moments after relaying the crucial intelligence, and Ramirez also seemingly perished, saving MacLeod and Louise from a trap within a massive industrial fan-room.
Ad blocker interference detected!
Wikia is a free-to-use site that makes money from advertising. We have a modified experience for viewers using ad blockers

Wikia is not accessible if you've made further modifications. Remove the custom ad blocker rule(s) and the page will load as expected.