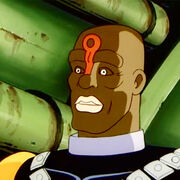 Mangus is a character from Highlander: The Animated Series. One of the Jettators, he had designed the fortress-city of Mogonda. His plans were stolen by Kortan, who then made Mogonda his stronghold.
He appears in the episode The Last of the MacLeods and helps Quentin MacLeod sneak into the city to save the people of his tribe. When the young Immortal is confronted by Kortan while making his escape, Mangus attacks Kortan only to be beheaded after a brief duel.
Ad blocker interference detected!
Wikia is a free-to-use site that makes money from advertising. We have a modified experience for viewers using ad blockers

Wikia is not accessible if you've made further modifications. Remove the custom ad blocker rule(s) and the page will load as expected.