Mara Leonin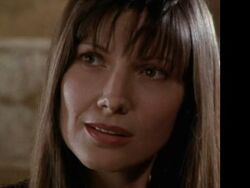 Statistics

Name
Mara Leonin
Born
July 22, 1958 in Tosava, The Balkans
Died
July 26, 1995
Nationality
Balkan
Status
Killed by Andrew Cord
Occupation
Revolutionary
Portrayed by 
Liliana Komorowska
Mara Leonin is a Balkan revolutionary. She was once a reporter in the capital until artillery leveled her building and killed the publisher. The freedom fighters were led by Paul Karros, a vibrant, charismatic leader. Karros was an Immortal who once served as a slave in Rome and fought in the slave revolt with Spartacus.
Mara was Karros's assistant. They traveled to the U.S. to drum up support for their cause. Duncan MacLeod and Karros fought together in the Mexican Revolution and Karros tried to convince MacLeod to fight with him in this cause. MacLeod turned him down, but Charlie DeSalvo was tempted both by the cause and by Mara.
When Father Stefan, a local liaison, was critically wounded in an assassination attempt, MacLeod realized that Karros was determined to fight the war at any cost - even at the cost of sabotaging peace negotiations by killing those who trusted him. When Mara discovered the truth, she threatened to expose him. Karros responded by attempting to kill her. MacLeod was forced to challenge his old comrade.
In late 1994, Mara fell in love with Charlie DeSalvo and he decided to travel with her to her homeland to help her in her quest. The following year, Mara and Charlie were set up by Immortal arms dealer Andrew Cord, who deliberately sold them defective weapons. When confronted by Mara, Cord shot and killed her.
"Sometimes a free press means free to be murdered."
"No, love. It wasn't you. It was the Kalishnakhovs."
Ad blocker interference detected!
Wikia is a free-to-use site that makes money from advertising. We have a modified experience for viewers using ad blockers

Wikia is not accessible if you've made further modifications. Remove the custom ad blocker rule(s) and the page will load as expected.