Marc Saracen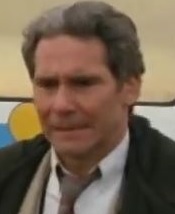 Statistics

Name
Marc Saracen
Born
France
Nationality
French
Status
Alive
Occupation
Motorcycle race team owner
Portrayed by 
Patrice Valota
Marc Saracen was the head of the Saracen racing team in the Gran Prix motorcycle racing in Paris. A young racer, Richie Ryan, tried to get a tryout, but was largely ignored. Richie simply commandeered a bike and took it around the track, though Saracen was not pleased at first, he was impressed with Richie's riding and speed. Saracen told Richie that he could have him arrested for such a feat, but decided to let Richie on the  team, telling an older rider, Philippe, that it was not his bike any more.
When it later transpired that Richie and his teammate, Basil Dornin, had problems behaving as teammates,  Saracen was not happy with Richie, and told him he only got one mistake. This proved all too true when the one up-man-ship on the track killed both Richie and Basil in a later race.
Ad blocker interference detected!
Wikia is a free-to-use site that makes money from advertising. We have a modified experience for viewers using ad blockers

Wikia is not accessible if you've made further modifications. Remove the custom ad blocker rule(s) and the page will load as expected.