Marcia Faulkner
Statistics

Name
Marcia Faulkner
Born
May 14, 1965 in Seacouver, WA
Died
February 21, 1995
Nationality
American
Status
Deceased
Occupation
Lead trauma nurse at County General Hospital in Seacouver
Portrayed by 
Catherine Lough Haggquist
Marcia Faulkner was the lead trauma nurse at County General Hospital in Seacouver, Washington and good friends with co-worker Anne Lindsey. Unfortunately, in 1995, Marcia became collateral damage during Kalas' campaign to hurt MacLeod and everyone he cared about. Kalas forged orders issuing insulin to Marcia, a hypoglycemic, Anne insisted a pre-med student knew better than to do such a thing. Marcia was rushed to the ER but was pronounced dead on arrival.
Marcia had a husband, Raymond and two daughters, Darla and Anne.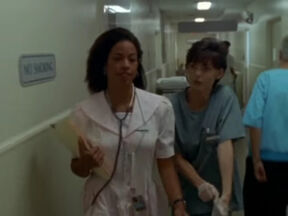 Ad blocker interference detected!
Wikia is a free-to-use site that makes money from advertising. We have a modified experience for viewers using ad blockers

Wikia is not accessible if you've made further modifications. Remove the custom ad blocker rule(s) and the page will load as expected.