Marco Becker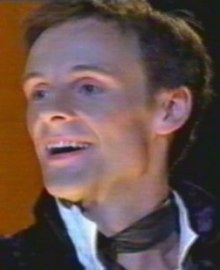 Statistics

Name
Marco Becker
Born
Unknown, prior to 1863
First Death
Unknown, prior to 1863
Status
Deceased, Beheaded by Wilson Geary 1963
Occupation
Actor and poet
Portrayed by 
Kirby Morrow
Marco Becker was a poet and an actor. Amanda rememberd him as talented and likable, but also as stubborn, and she made ​​fun of his snoring. According to Amanda, a little before 1863 Marco had a relationship with her.They both enjoyed their time in Paris. Amanda and Marco saw one another for the last time in St. Tropez - at an nudist beach.
Marco traveled to Chicago in 1963, with his mortal wife, Lucy. They appeared in a play he wrote called Timeless which was received with great enthusiasm as were the stars, Marco and his wife, Lucy. His old friend Amanda appeared at one performance, and the pair reunited after the show, happily recalling old times. Lucy was confused by the lovely Amanda and a bit hurt by Marcos' response to her.  Lucy remained behind when Marco left the bar, and was targeted by another man with ulterior motives.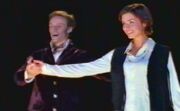 Marco later received a call from Wilson Geary, an Immortal he knew but did not like. Geary told him that Lucy was dead. When the enraged Marco stormed into his apartment, he was stunned to find Lucy alive. His surprised hesitation was enough to allow Geary to drop on him from ambush and take his head without a fight, right in front of the horrified young Lucy.
Ad blocker interference detected!
Wikia is a free-to-use site that makes money from advertising. We have a modified experience for viewers using ad blockers

Wikia is not accessible if you've made further modifications. Remove the custom ad blocker rule(s) and the page will load as expected.