Maria Campalo
Statistics

Name
Maria Campalo
Born
December 29, 1901 in Paris, France
Died
January 12, 1989
Nationality
French
Status
Deceased
Occupation
Singer
Portrayed by 
Carmen Chaplin
Maria Campalo was a singer in 1920 Paris, France.
She was a friend of Duncan MacLeod who had told her uncle that he would watch out for her. Maria wanted to meet Antonio Neri, a famous tenor, but MacLeod was unhappy to learn that Neri was the former monk, Kalas, an enemy of his.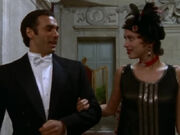 Maria joined Kalas singing an aria to a small audience.  She was delighted, and at the conclusion, she was amazed MacLeod and Kalas all ready knew each other. Kalas and Maria danced, and when Duncan and Maria left, she told him that Neri had set up an audition for her with the director of the Paris opera, and was hosting a dinner party for her.
Duncan told her to send her regrets because she was leaving Paris, that he had booked her passage to New York to study at the Metropolitan Opera.
When she later visited Kalas to explain that she would be leaving Paris, Kalas tried to convince her to stay, but had ulterior motives. He tried to strangle her, in an attempt to hurt MacLeod, but Maria was saved by Duncan, who then destroyed Kalas' voice forever with a strategic slash to his throat.
Ad blocker interference detected!
Wikia is a free-to-use site that makes money from advertising. We have a modified experience for viewers using ad blockers

Wikia is not accessible if you've made further modifications. Remove the custom ad blocker rule(s) and the page will load as expected.