Marvin Singer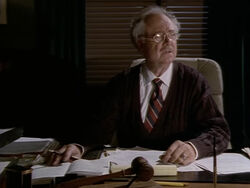 Statistics

Name
Marvin Singer
Died
1992, killed by Quentin Barnes
Nationality
American
Status
Deceased
Occupation
Prosecutor and Judge
Portrayed by 
Alan Robertson
Marvin Singer a prosecutor for the Seacouver justice system, who later on became a judge.
In 1962, Marvin Singer convicted killer and Immortal, Quentin Barnes, who went to the electric chair. Thirty years later, Barnes, returned and killed Singer by electrocution.
Ad blocker interference detected!
Wikia is a free-to-use site that makes money from advertising. We have a modified experience for viewers using ad blockers

Wikia is not accessible if you've made further modifications. Remove the custom ad blocker rule(s) and the page will load as expected.