Mary Shelley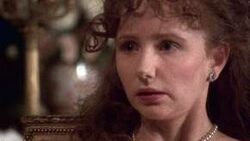 Statistics

Name
Mary Shelley
Born
August 30, 1797 in Somers Town, London, UK
Died
February 1, 1857 in Chester Square, UK
Nationality
English
Status
Deceased
Occupation
Writer
Portrayed by 
Tracy Keating
Mary Shelley, as seen in the episode, The Modern Prometheus, was based upon the actual writer (1797 – 1851), author of Frankenstein, a classic novel that also played a role in the episode.
Within the context of the episode, Mary and her husband, Percy, are two of the guests at Lord Byron's house in Switzerland in 1816. Other guests were Mary's stepsister, Claire Clairmont, and Methos in his guise of a doctor, who, according to Byron, was interested in seducing Mary.
Mary was presented as unprepared for the debauchery of the weekend, and apparently overindulged in the opiates available and was taken under the care of Methos in his role as doctor. She was then wracked by nightmare visions of her deceased daughter. Methos attended her and tried to comfort her; "Perhaps, dear Mary, death is not truly journey's end, but just another turn in the road. If we believe that we can live without fear." Byron on the other hand, suggested either seduction or possibly rape. Methos, however, stopped Byron's excesses and dragged him from Mary's bed.
When Byron later took his first quickening and died in the effort, Mary was a witness to his revival from death. Methos was forced to try and make explanations, but she snapped that she was not the foolish Claire to be swayed by weak excuses about a trick of the storm. Methos ceded to her request and told her, "He is not governed by the rules of mortal flesh. He is of a different kind....I am like him, immortal. I beseech you, tell no one of this. We must live in secret."
Mary grasped the problem immediately, and her sympathy was aroused, "Or you would be hunted....Poor tormented creature. The sad hero of a never-ending story. Resurrected by lightning to eternal life. To eternal loneliness."
Byron recovered and led the way back to the house, with an invitation to the fire and story telling. Mary agreed that she had a story to tell: "Mine will be about the anguish of immortality.... Frankenstein: The Modern Prometheus. A man born of fire."       
Miscellaneous Information
Edit
Actress Tracy Keating was over 30 when she played the part of Mary Shelley making her over a decade too old for the role; Mary Shelley was 19 the summer she spent at Lake Geneva.
Tracy Keating retired from acting in 1999. In 2004, she qualified as a counselor and psychotherapist and now works as a counselor in London.