Max Jupe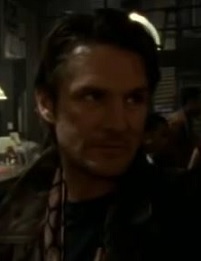 Statistics

Name
Max Jupe
Nationality
American
Status
Alive
Occupation
Bassist
Portrayed by 
John Tench
Max Jupe was a musician in the house band that performed at Joe Dawson's bar in Seacouver, Washington. He was a drug addict who's habit always caused him problems. Max met Kalas, an immortal who presented himself as a record executive of a company called Magna Records, and who offered him a record deal. Kalas was doing this to set up Joe Dawson to be hurt in order to hurt Duncan MacLeod.
Dawson fired Max after seeing him stoned and always showing up late. Max told Joe that he didn't not need his place and had a record deal already. Max, then went behind the bar and got a beer in order to plant drugs on Joe's property.
The police were then anonymously called about drugs at Joe's and after a short seach, Joe was arrested for possession. It was later on that Duncan found out who was behind the set up.  Duncan saw Max and drove up to him, convincing him to talk by grabbing Max's tie and dragging him while driving. Max told Duncan everything, and then was delivered to the police.
Joe was released from custody and presumably Max was charged, and went to jail.
John Tench, who played Max Jupe also appeared in the Season One episode of "Highlander: The Series" as Reese.
Ad blocker interference detected!
Wikia is a free-to-use site that makes money from advertising. We have a modified experience for viewers using ad blockers

Wikia is not accessible if you've made further modifications. Remove the custom ad blocker rule(s) and the page will load as expected.